A conversation with Royal IHC's Director of Procurement Rogier Schurink, one of the initiators of the One Maritime Data Standard (OMDS), a project that aims to improve efficiency, reduce failure costs and increase the quality of product and trade data within the maritime supply chain. Rogier gave us a glimpse behind the scenes and talked about the developments of OMDS.
What motivates Royal IHC to actively participate in OMDS?
'Royal IHC is active in several sectors, such as dredging, offshore energy, defence, and mining. And Royal IHC wants to be frontrunner in those markets when it comes to designing and building efficient and sustainable vessels and equipment for our clients.'
Royal IHC constructs its products from various components that we buy in part from parties that are relevant to other parties in the maritime sector too. There is a strong shared supply chain behind this. The entire maritime cluster is experiencing increasing competition from other countries, not just the low-wage ones. According to Rogier, this clearly means that the Dutch maritime manufacturers need to not only form a strong collective but also join forces with the partially shared supply chain.
Royal IHC gains from making processes and data uniform. This applies to everything and across all of Royal IHC's activities, including the more standardised products, custom-build projects (often bigger) and services. Custom build projects often involve a larger turnover. 'Our company combines flow business (standard products and service) with larger custom build vessels. With custom build vessels, you want to be able to rely on proper standardised processes that help you to control every detail of the building process. This calls, to a certain extent, for uniformity and standardisation of data. In today's world, where technical complexity is increasing, projects have longer lead times and are more diverse. On top of that, we are experiencing the effect of worldwide tensions, economic crisis, inflation, electrical components that are no longer available and the unpredictable situations that causes. This makes it even more challenging to control custom build projects with a long lead time. In such a context, standardisation is always a positive thing.'
Obviously, it is also useful when cooperating with other parties using the same suppliers. Cooperation, chain integration, digitisation and standardisation are crucial to staying abreast of international competitors.
'If OMDS becomes a success and many suppliers have joined in, we will be creating a standardised playing field where certain information on all the elements you are buying is available beforehand. They are the small building blocks that form the foundation for the bigger building blocks later. This will ultimately contribute to Royal IHC's project control as a company and to the collective of companies and the entire supply chain. Everything comes together in OMDS.'
Has Royal IHC set specific goals on OMDS implementation and integration? Do you have any examples?
'As Director of Procurement, I am looking for ways to make things simpler, for example. Ideally, we work with a small group of key suppliers who are real partners and participate in OMDS. I hope that in one or two years, we will have done demonstrably more business with fewer suppliers, so to speak.'
Royal IHC hopes that everyone will gain from the OMDS initiative so that all suppliers in the maritime sector generate more business and together, strengthen the maritime cluster's position in the Netherlands.
You are saying that there is a growing demand for efficiency, standardisation, and digitisation in the sector. Do you think OMDS already has a visible presence in the maritime sector?
Rogier: 'One Maritime Data Standard is visible, although I have to say in all fairness that the group of participants is not as big as we had initially hoped. That is because the maritime industry is quite conservative. On top of that, the OMDS participants do not yet grant assignments to companies when they become active OMDS participants. But one way or another, every party is trying to standardise.'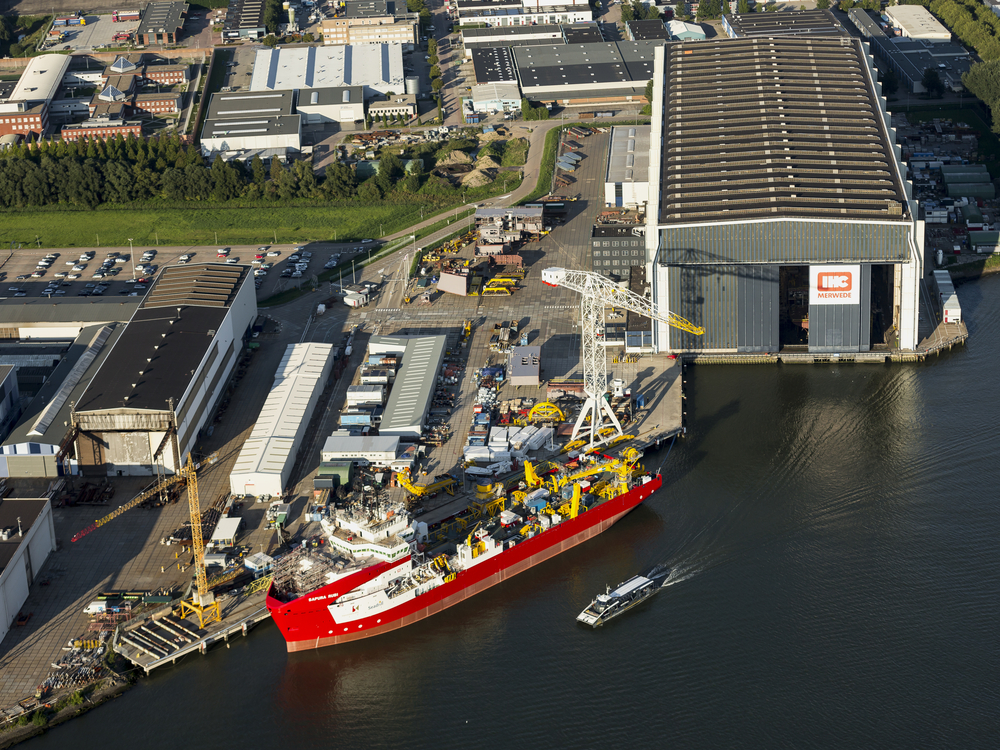 To what extent does Royal IHC integrate the Maritime Data Standard in its own procurement processes?
'In the past two years, we have put much effort into making the procurement process and its tools uniform. We can clearly see the absolute value of OMDS for our flow business, for instance. Take the Royal IHC Beavers, for example. Beavers are standardised cutter suction dredgers that we build modularly and keep in stock. In fact, every product is built with the same components. It would be interesting to standardise this. What we want is to formulate, store and process enormous amounts of data for a considerable number of articles so that we can make the perfect connection with our own ERP system. Ideally, orders are placed fully automated. To implement this, you need to take various steps and that is a meticulous and time-consuming process. So a large core group of OMDS participants is very important.'
The entire shipbuilding industry has been suffering. You'd think that companies would want to join forces, wouldn't you?
Rogier: 'Yes, indeed. I think that at some point we will see things speeding up. In fact, that is the catch: once One Maritime Data Standard has reached a certain critical mass, other parties will want to join in for fear of 'being left out.'
What does the future hold for OMDS, in your opinion?
'OMDS includes parties that build equipment and parties that use equipment. But obviously, Royal IHC would also be interested in buying spare parts for maintenance and fixed components that are used in every piece of equipment. This would lead to a different situation. However, the road to cooperation in the chain including further standardisation is inevitable for everyone and will become a win-win situation for all parties involved. We secretly trust that the Dutch suppliers have great sympathy for Dutch maritime manufacturers and operators.'
In the installation industry, the product database and data pool of 2BA have already been recognised at the standard for this branch for 18 years now. It is a proven process and 2BA is the perfect example. It would be good to continue to work out the tipping point. For now, the OMDS and the proven 2BA data pool meet with the conditions for giving the entire sector the benefit of really increased efficiency while at the same time, improving international competition. In fact, it is up to the sector itself to seize the opportunity. But we have to do it together, obviously!'